Thursday, September 02, 2004
Sports: The Week That Will Be (9/4)
Last Week: 0-1 ATS; 1-0 SU
On the Year: 0-1 ATS; 1-0 SU
While last week didn't work out so well for TWTWB, we all fell in love with ESPN's
Behind the Scenes
experiment in which they took a look at all the happenings behind the cameras and in the production trucks during a college football telecast. We enjoyed producers yelling at workers, producers telling a cameraman that his "focus is crap" and saw what it is Ron Franklin and Mike Gotfried do during timeouts.
Well, as a service to my loyal readers, this week I offer you, the reader....
Behind the Scenes of The Week That Will Be.

Behind the Scenes

I don't really know what to write about, several ideas have crossed my mind...a UT season preview...I started a daily diary of Saturday's ballgame as has become sort of a tradition, but it was so non-funny that I deleted all of it.

Anyhow, the production of TWTWB involves one thing. A computer. A couple of websites to get a feel for the games from the national prospective (College Football News) and somewhere to get the odds from the game (usually something like Vegas.Com). Like old school Vegas, I'm trying to go with the Stardust's lines this year.

But usually what you see is my first impressions of the game. I try not to over-analyze.

Anyhow, enough self-aggrandizing, let's get to it.
Okay, this week we will visit with Roxy Roxborough, our resident handicapper at the LM Hotel and Casino in Las Vegas, Nevada. Roxy is a throw back to old school handicappers, who smokes a cigarette factory a day, fathers kids every six months and drinks like Simon Honeybone at a tailgate. Roxy gives us this thoughts on the upcoming season, Texas' chances at winning the national title and even the presidential election.
HornMafia: Hey Roxy, how are you?
Roxy: Hey Mafia man I'm doin' good, doin' good. Got past a nasty case of gonorrhea last week.
HM: Ummm....okay?
R:Well you know a girl comes up to you in the bar and starts giving you the eye, so you slip a little something in their drink and take them back to your room and Kobe them...
HM: Roxy!
R: What?
HM: Um, let's get this on track....who is the favorite at the LM Hotel to win the national title this year?
R: That's an easy one....TCU
HM: TCU? As in Texas Christian University?
R: Yes sir Mafia man.
HM: Ummm....why?
R: Because their quarterback's name is Ty Gunn. Now tell me that's not a QB name.
HM: Yeah, it's a nice name for a QB, and TCU does have a nice combination at running back with Merrill and Hobbs, but you pick a national champion based on a name?
R: Well, that and the amount of hot chicks on the TCU campus. I can see why their mascot is the Horny Frog.
HM: Um actually it's the Horned---
R: Whatever. You're way too serious man.
HM: So you don't think say, OU or USC have a shot at the national title?
R: Nah man they wear red.
HM: Red? So now you are downgrading teams because of their color?
R: Can't help it. Goes back to my WWII days.
HM: WWII? You're like 43 years old.
R: Hey man you seen that Wheeler man around lately?
HM: Um, no. He's pretty much gone I think.
R: That's a shame. That guy had some fire. It takes a good American to clean up a parking lot at 4 AM with only your undies and boots on.
HM: I guess...
R: You guess? Are you one of those commie pinko bastards? Mafia man, tell me that's not the case.
Behind the Scenes

You can tell I'm getting a bit bored here. Sorry. Creative juices not really flowing tonight, at least sports-minded. The political juices are flowing.
HM: No, I'm quite certain that I stand the test as a true American...speaking of which, who do you have winning the presidential election?
R: Bush. Are you kidding me? That Kerry chooses that hag Teresa as a wife and we're supposed to trust him with the security of the country?
HM: Well, I think there are other reasons to vote for or against a person than their choice in spouses.
R: Like what? Their wives' cans?
HM: Oh my. Let's change direction, again. Who do you think has the best shot at the Heisman this year?
R: Again an easy question. Aaron Karas.
HM: C'mon, you said Karas last year. The guy sucks.
R: He's a year wiser, Mafia man.
HM: Wow. This interview is...interesting. What do you think about Texas' chances this year?
R: Well I was telling everyone that would listen that Jerry Gray was going to be the DC this year, but Greg Robinson and Dick Tomey were great additions. So I think Texas wins the national title.
Behind the Scenes

So NOW we find out who tsd's "source" is.
HM: But you said you thought TCU was going to win the national title.
R: Oh yeah. Scratch that. Texas will go 7-4.
HM: A four game drop in 5 seconds?
R: Hey man your coach looks like Liberace.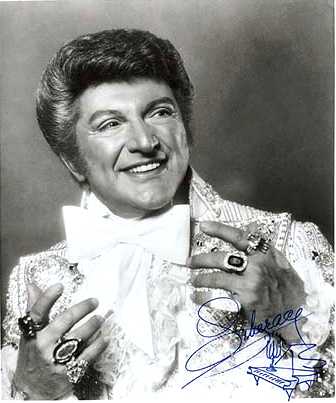 Behind the Scenes

You have no idea how long it took to
find the "right" Liberace picture.

HM: This might be the worst interview ever.
R: So seriously man, where's Wheeler?
HM: I don't know.
R: That's a shame.
HM: Indeed. Roxy, do you have any other lines you would like to get out there before we wrap this up?
R: Yes sir, Mafia man.
Odds Bevo71 tries to strangle Greg Davis this year: 7-2
O/U on people Drew spills beer on (first tailgate): 4.5
Odds that Drew and Robert get in an argument about Robert's "hyberbolic arrogance about UT quarterbacks": 25-1
Odds Kevin takes no pictures this tailgate: 2-1
Odds Evan is a wuss for going to Vegas first weekend instead of the game: 1-3
O/U on "Greg Davis sucks" being uttered during tailgate: 300
O/U on Patrick Cobbs rushing yards against non-Sun Belt conference opponent Texas: 55
Odds Robbi destroys an ironing board at Friday tailgate: 400-1
Odds Matt makes an AIDS joke that offends someone: 4-1
Odds Paul gets to the game on time: 5-1
Odds OKC is watching the game with jorts on: 6-1
Odds that no $5 bets are made at this year's tailgates: 3-1
Lowest odds on game Drew offers a beer to a state trooper: Baylor at 3-1
O/U on My Hometown being played, first tailgate: 8
O/U on Wheeler Colorado Band Fight story being told, first tailgate: 3
O/U on how many offensive coordinators are coming to Texas, according to TSD: 5
Odds that the second half of UNT game will be a distant memory for most of this crew: 2-1
Behind the Scenes

I think I managed to fit most of the
inside jokes in.

HM: Thanks Roxy for your time.
R: No problem Mafia man, now if you excuse me I have to rid the neighborhood of the Taliban.
HM: I don't even want to know.
On to the games...
Behind the Scenes

I do six games each week...I try to pick 3 Big XII games including the Texas & Oklahoma games, and then try to pick the best games after that.

I don't want to hear "I wouldn't touch that game" because frankly I don't are. I'm not a nutless wrench like some of you, so I'll touch it.
Texas A&M @ Utah (-9):
Note: This was written before tonight's 41-21 Utah win over the Aggies.
Texas A&M won this game last year 28-26 for one of the few bright spots of their season. Utah returns 14 starters from a team that went 10-2, while Texas A&M returns 12 from a team that went 4-8.
Utah is an underrated squad. Give me them at home with Urban Meyer against a Texas A&M team that still has at least another rough year to look forward to.
Utah 24 Texas A&M 21

ATS - Texas A&M
SU - Utah

Texas Tech (-24.5) @ SMU:
SMU nearly beat Tech two years ago in Dallas, but last year in Lubbock it was no contest as Tech beat up on the Ponies 58-10.
Tech has to replace a quarterback, but yada yada yada you know how that goes.
Texas Tech 55 SMU 13
ATS - Texas Tech
SU- Texas Tech
Miami (OH) @ Michigan (-13.5):

This is a fairly tough game for Michigan to start out with. Miami of Ohio is a decent ballclub with some players that will be playing on Sundays.
Matt Gutierrez is the new Wolverine QB, and he might have the best receiving corps in the nation to play with, led by senior Braylon Edwards. Their defense is once again top caliber. Miami of Ohio has to replace Ben Roeth...Ben Roth...that QB of theirs from last year, but still feature a nice-sized OL and a talented secondary.
I like Michigan...but just barely. Their defense, receivers and 100,000 fans should be the difference.
Michigan 34 Miami (OH) 20

ATS - Michigan
SU - Michigan
Behind the Scenes

This is the epitome of the early
season game that is hard to judge. Both teams have to replace their QB, so you
try to gauge other parts of the squad. Tough stuff.
Florida State @ Miami (-1.5):

This game might not happen this week due to Hurricane Frances. (The game has since been moved to next Friday).
This is now a conference matchup, and what a welcome to the conference for the Hurricanes. Miami lost a ton on defense, but please, this is Miami, the new guys coming in are probably better than the ones that left.
The rain might also slow the game down, which certainly favors Miami over Chris Rix and the Seminoles.
The streak continues.
Miami 24 Florida State 17
ATS - Miami
SU - Miami
Bowling Green @ Oklahoma (-33)
Bowling Green only lost 5 starters from a team that went 11-3, including a win over Northwestern in the Motor City Bowl. They didn't just do it against weak opponents, either, as the MAC is an up and coming conference and BG beat Purdue on the road and nearly pulled off the upset of Ohio State in Columbus.
They lost QB Josh Harris, who was unquestionably their best player and the battery of the team. But still this a deep team who will give a lot of teams fits this year.
Oklahoma might not be one of them, though. They only return the Heisman trophy winner and his favorite target, Mark Clayton. The defense will be as good as ever.
I don't see this one as a huge blowout. Bowling Green is a decent enough team that they won't get embarrassed.
Oklahoma 44 Bowling Green 17

ATS - Bowling Green
SU - Oklahoma
Behind the Scenes

I think some Sooner fan tried to point out that last year I seemed to pick against the Sooners alot while picking Texas in nearly every game. I'm a fucking Texas fan, get over it. And I don't do that.
North Texas @ Texas (-26)

One thing Texas knows how to do is take care of business against non-BCS teams.
Benson and Young should be okay against a North Texas team that is starting a new trio of linebackers and must replace Brandon Kennedy in the middle of the defensive line. Their secondary should be okay, but Texas won't throw the ball much anyhow.
If anything the secondary might be in trouble because they will be forced up to help against the run, opening things up for Vince Young to throw deep, which he loves to do.
Texas' defense should hold up against North Texas, even though Patrick Cobbs is certainly a formidable opponent.
This game basically comes down to I don't see North Texas being able to score more than 10 points against us and I don't see Texas scoring less than 35 points.
Texas 41 North Texas 10

ATS - Texas
SU - Texas

For entertainment purposes only. No massive protests if you lose.
Behind the Scenes

The ending tagline is always hell. I want to end on a good note, but by this time I'm usually ready to click submit and do something else. But it is the last thing the reader is going to read, so it can't fall flat on it's face.

|